We are open as an essential business
Let us know what we can do for you. 24/7 we're on call to keep you getting where you need to be. Free pickup & delivery.
WE OFFER A VARIETY OF AUTOMOTIVE SERVICES
C&A Automotive is dedicated to providing top quality auto repair and maintenance services in Eldersburg, Sykesville and the surrounding Carroll County community to help keep you and your automobile on the road. Being family owned and operated, we truly care about the auto repair services we provide, and promise that you'll find friendly faces and competitive prices at our auto shop!
Our ASE Certified Technicians utilize the latest diagnostic equipment and highest quality parts and fluids to service and repair all makes and models of cars, trucks and SUVS. From oil changes and brake repair to factory scheduled maintenance services and more, the experienced auto mechanics at C&A Automotive in Eldersburg, MD, are here for you whenever you need us!
C&A Automotive is a licensed safety inspection facility and can inspect the following vehicles:
Passenger Cars;
Light trucks and SUV's with a gross vehicle weight rating of 10,000 pounds or less; and
Trailers that are 20 feet in length or less, without air brakes.
We provide oil changes, brake repair services, tire rotations, factory scheduled maintenance, and more.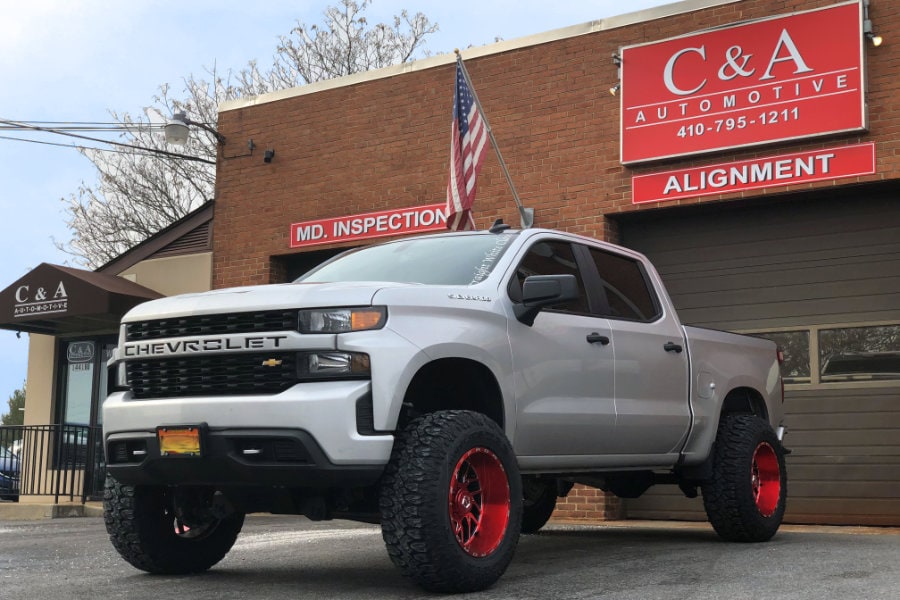 General Maintenance
Factory Scheduled Maintenance 30K, 60K, 90K
Tune Ups
Filter Replacements
Maryland Vehicle Safety Inspections
Windshield Wiper Blades
Trip Inspections
Maintenance Inspections
Check Engine Light Diagnostics
Tire Services
Tire Mounting
Tire Balancing
Tire Replacement
Wheel Repair & Replacement
Transmission Services
New & Rebuilt Transmissions
Driveline Maintenance & Repair
Axle Replacement
Differential Service & Repair
Clutch Repair & Replacement
Engine Services
Engine Replacement
Engine Performance Check
Belt & Hose Replacement
Driveability Diagnostics & Repair
Fuel Injection Service & Repair
Fuel System Maintenance & Repair
More Repair Services
Computer Diagnostics
Air Conditioning Service & Repair
Electrical System Diagnosis & Repair
Shocks & Struts
Cooling System Service & Repair
Pre-Purchase Inspections
Brake & Lamp Inspections
Chassis & Suspension
Body & Trim Repairs (Mirrors, Door Handles, Locks)
Power Accessory Repair
The Right Tools For The Right Solution. Every Time.
We sell all major tire brands and have a wide range of tire styles and sizes for you to choose from.
Luxury & Import Maintenance
We provide the maintenance services that help you avoid costly repairs or breakdowns.
We keep you and your truck strong and productive for all on-road and off-road travel.
We're Here To Help Your Business Blast Off!
Learn about our Fleet Service Plans