Project Details
VEHICLE
1999 Cheverolet Silverado 2500 Pickup
Chevy Silverado 2500 Repair – Back on the Road
This repair was part of our Back On the Road 2018 program where we selected two local veterans to provide automotive services at no charge.
This nominee comes from a long line of veterans. He signed up for the Air Force while still in high school and served multiple tours of duty. His Silverado "has seen better days but he loves that truck."
After performing our Comprehensive Inspection on his 1999 Chevy Silverado 2500 pickup, we found issues with the fuel gauge, rear axle, door bushings, battery, rear bumper damage preventing the tailgate from opening and other maintenance work that could be performed to keep this car running well.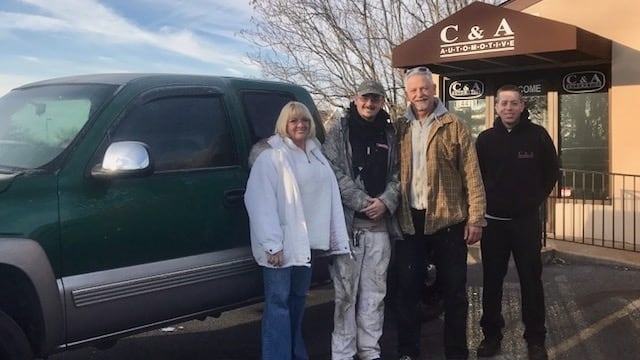 Here's the work that was done:
Replace rear bumper assembly with brackets
Replace fuel pump
Repair rear drive axle seal
Repair drivers door hinge bushings
Replace battery
Retint drivers window
Replace vent visors
Replace wiper blades
Oil Change
We were very happy to get this truck back on the road!
Before & After
Rear Bumper Assembly Replacement
Rear Drive Axle Seal Repair
Fuel Pump Replacement
Door Bushings Hinge Repair